Gyan Riley
Silver Lining (2021)
Gyan Riley - Solo classical guitar
"This album pays homage to several of my musical mentors. I am forever grateful to these artists for the inspiration they have given me, not only for introducing me to unfamiliar music, but to new ways of hearing, seeing, and interpreting the world. This recording is also a reflection on the unexpectedly good things that for me have grown out of the hardships of the pandemic: new experiences, lessons learned, skills acquired, creative solutions, and adaptation inspired by necessity." -GR
CD available for purchase directly from Artist:
US Shipping, Canada Shipping, or International Shipping
Also available for purchase at Bandcamp or Amazon
Shelter in Space (2020)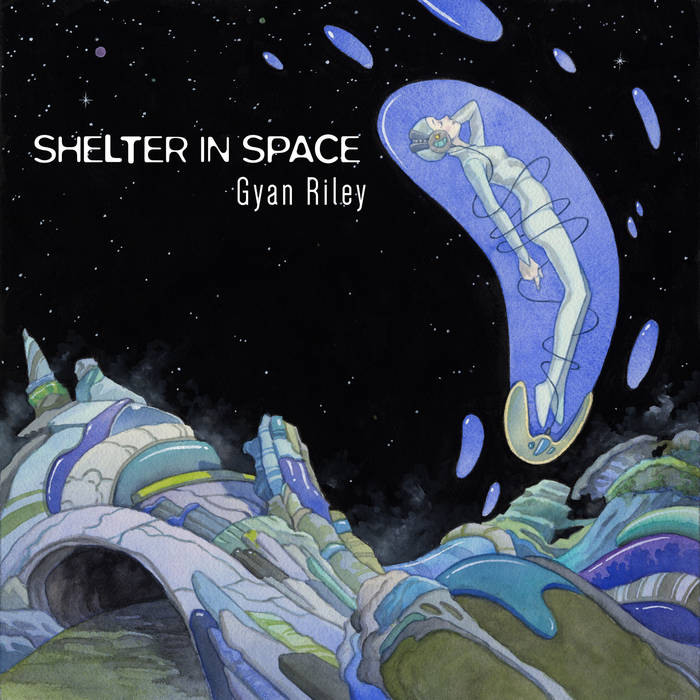 A "virtual ensemble" album recorded during quarantine

Gyan Riley - classical guitar, electric guitar, bass guitar, ukulele, banjo, and electronics
David Cossin - percussion
Greg Chudzik - bass on tracks 4, 5, and 9
Shanir Blumenkranz - bass on track 8
Zach Brock - violin

Purchase digital download, LP, and T-shirts at Bandcamp
Sprig (2018)
Featuring Gyan Riley (solo guitar and ukulele)

With nimble dexterity, Riley's fingers fly across the strings throughout his "beautiful and enigmatic" compositions (The New York Times). Recorded at the acoustically remarkable Harrison House in Joshua Tree, CA the crystalline quality of the recordings present listeners with an incredibly intimate experience. Mixed and mastered by Phil Smith, the new album preserves Riley's identity as "one-man American-music machine, amicably ranging across the fields of jazz, world music, and post-minimalism" (The New Yorker).

REVIEWS:"Vernal, organic, and bursting with life, the music is a timely arrival...."
-Steve Smith (of Time Out NY, Boston Globe, NYT...)
CD, Vinyl, and Digital Downloads available at Bandcamp
Stream of Gratitude (2011)
Featuring Gyan Riley (guitar)

Gyan's first all solo classical guitar CD of original compositions, comprised entirely of dedications to J.S. Bach, John Dowland, Agustin Barrios Mangore, Egberto Gismonti, John McLaughlin, and Zoran Dukic. Tzadik Records.

REVIEWS:"With this collection, Riley shows himself to be a highly skilled performer of music that is both deeply personal and profoundly inspired. They truly are beautiful, in the most complex and nuanced definition of the word."
-Molly Sheridan, New Music Box
Melismantra (2007)
Featuring Gyan Riley (guitar), Zakir Hussain (tabla), Tracy Silverman (violin), Scott Amendola (drums).
A fusion of acoustic experimental jazz with global overtones, especially African rhythms and Indian melodic modes.
REVIEWS: "...beautifully showcases his love of raga, jazz fusion and classic flamenco with simply phenomenal guitar playing.  World class accompanists Tracy Silverman/electric violin, Scott Amendola/drums, and Zakir Hussain on tabla, catapult Riley's compositions to a level way beyond his years."
-KVMR Top Picks of 2007

"...his refined guitar patterns and sensitive melodic hooks have unexpected power and draw the listener in. For the CD's 55 minutes duration, I found myself engrossed."
"Riley demonstrates that he's an effortless distiller of prevailing influences."
-The Wire, January 2008

"...never less than enthralling."
-Oakland Magazine, July 2008
Shop CD:
Shop Digital Download:
Food for the Bearded (2002)
Featuring Gyan Riley (guitar), Tracy Silverman (viola), David Doll (percussion), Terry Riley (piano, vocals)
Gyan Riley debut album of original works, plus premiere recording of Piedad by Terry Riley, New Albion Label.

REVIEWS: "No matter how you present it, Food for the Bearded is one beautiful, heartwarming album. Gyan Riley comes through as a sensible instrumentalist and a composer as unclassifiable as his father, Terry Riley. Elements of Spanish classical, contemporary, French jazz, and Indian classical music all become part of [his] style. Gyan Riley emphasizes musicality over novelty without sacrificing creativity in the process. Recommended"
-Francois Couture, All Music Guide

"A magnificent first recording replete with imagination, passion and originality.  Hats off, gentlemen.  A genius."
-Guitarra Magazine